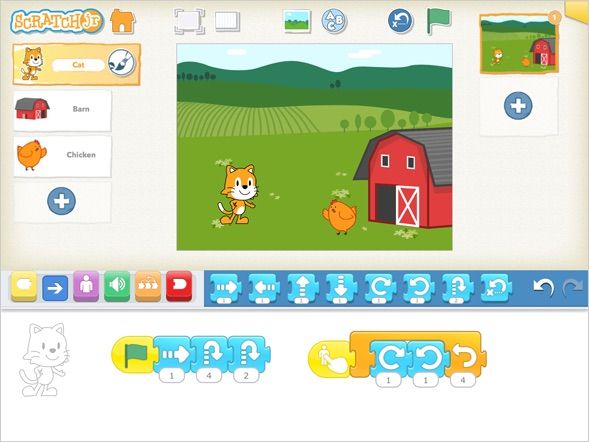 Fun with Scratch Junior
Young Gates (Online)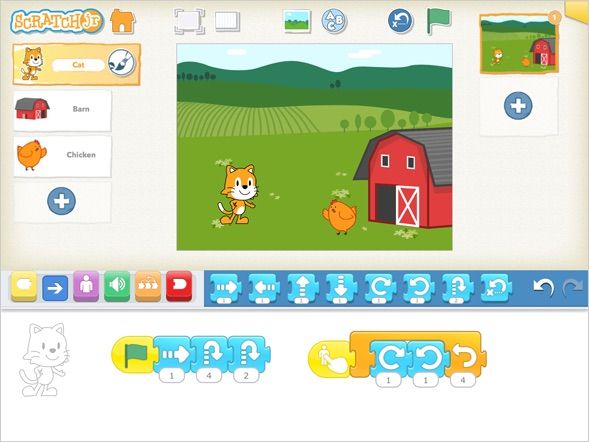 ---
About
In this course, we will learn the basics of using Scratch Jr. Students do not need to have any coding experience but should know how to work their device. Since this is for younger students, I highly advise the student having their zoom meeting on a computer and their project on a tablet that they can work on while still seeing the lesson. This will also allow them to show their work to the class as we go!

Each class, the students will add to their animated story with new skills that they learn. Scratch Jr. is a visual block coding language that is perfect for prereaders. All of the blocks use images for their labels. Each of the sessions is only 30 minutes long so that young students can stay engaged and focused the whole time.

Introduction
-The students will be introduced to the Scratch Jr. App
-We will start a new project, learn how to add characters and backgrounds and make our characters move
Creating/Editing Characters/Create Scenes
-Students will take this class time to add/create all the characters and create programs
Animate our scenes
-Students will learn how to animate a scene

Create Projects with more details
---
My son has enjoyed attending these classes and learning all about scratch jr!
Provider
66 reviews across 17 activities
About
Young Gates offers cutting-edge online technology education to kids between the ages of 8 and 18. The curriculum focuses on learning by doing; inquiry based learning and assisted practice, for maximum knowledge stickiness. Young Gates provides computer science classes online for kids and teens and adults starting from ages 9 and above. It provides various programs based on the kids level of exposure to computer science beginning from Scratch - Python - Website Exposure - Android Apps - Data Science – Robotics – Big Data & Hadoop making learning purposeful, meaningful and interesting. The program is hands on and self paced. Children are encouraged to build strong understanding of concepts and then come up with their unique innovative solutions. These programs not only teach coding but also fosters creativity, reasoning and problem solving.
...

Show more
Editor's Tip
Young Gates prepares kids for success in the digital world by teaching them how to code. Their unique approach combines the benefits of teacher-led instruction and the ease and convenience of online classrooms.