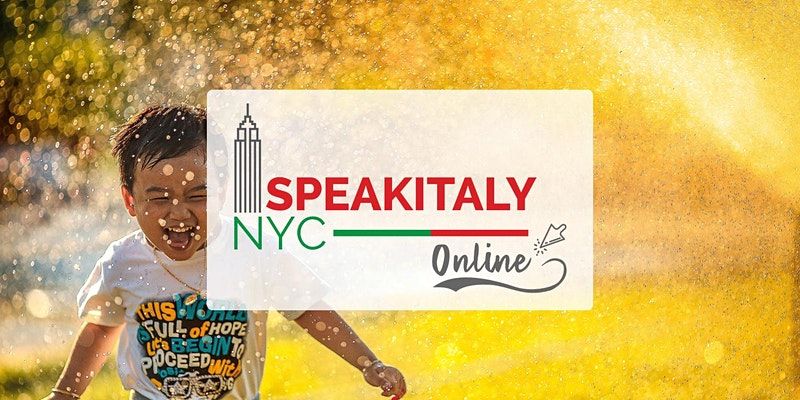 Online Summer Camp 2021 - Full-Time Plan
Speakitaly NYC Manhattan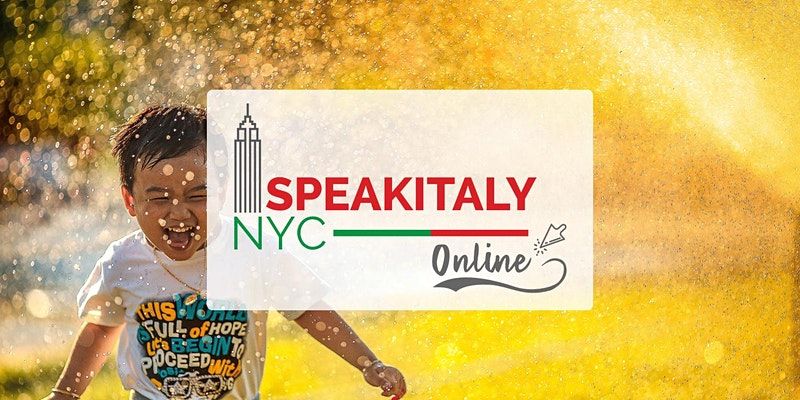 ---
About
FULL-TIME PLAN
$249 a week for 8 sessions (12 hours)

This year your kids will learn about Italy travelling through all the 20 regions, learning the culture, the nature, the history and the food. We will dedicate time exploring geography through art, virtual tours of important museums, and history.

The Children will be engaged with educational games, music, art & crafts, Total Physical Response activities and much more. We believe that it is important to give kids the chance to develop another language by enhancing their creativity and imagination. This is when fun and engaging come together.

Kids will be able to see museums, paint beautiful Italian landscapes, decorate beautiful masks and cook delicious meals for the entire family. All made in Italy of course.


You are able to attend all sessions from this schedule:
• Monday Morning Session
BUONGIORNO MAESTRA! 10AM-10:30AM
ART & GEOGRAPHY 11AM-12PM

• Monday Afternoon Session
ITALIAN STORYTELLING 2PM-2:30PM
ART AND CRAFT 3:30PM-4:30PM

• Tuesday Morning Session
MUSIC CLASS 10AM-11AM
ITALIAN CLASS 11:30AM-12PM

• Tuesday Afternoon Session
ART & HISTORY 2:30PM-3:30PM
MOVIMENTO 4PM-4:30PM

• Thursday Morning Session
ART AND HISTORY 10-11AM
MOVIMENTO 11:30AM-12PM

• Thursday Afternoon Session
DANCE WITH LA MAESTRA 3:30PM-4PM
ART AND CRAFTS 4:30PM-5:30PM

• Friday Morning Session
ART AND CRAFTS 10AM-11AM
MUSIC CLASS 11:30AM-12PM

• Friday Afternoon Session
ITALIAN STORYTELLING 2PM-2:30PM
ART & GEOGRAPHY 3PM-4PM


*All levels welcome. Instruction will be given in English when needed.
*Tickets are not refundable or exchangeable for other days
When to arrive:
5 minutes before
Additional details:
You can also buy our creativity box with all the material for the classes. We will mail it to you in the US for only $49.
Cancellation policy:
168 hours in advance
---
User Reviews
This activity would love your review. When you review this activity, here's where your review will show up!
Provider
141 reviews across 44 activities
49 West 28th Street, Floor 3, New York, NY 10001
Flatiron
(212) 603-9685
About
Speakitaly NYC's kids' lessons are stimulating and entertaining. Why? Children have fun while learning because they feel at ease with their teacher.

Their Italian language teaching method is anchored in the Common European Framework of Reference and is driven by a didactic method that is the result of a decade of experience in the field. Designed to actively involve their little students, the children's program uses a wide variety of learning tools to ensure children have fun while learning. In the program, kids are encouraged to experience the language through a wide range of fun activities that will help them start speaking Italian in a very natural way. The classes will work on grammar to help them become more familiar with it—later on, they'll be able to apply it. Vi aspettiamo!
...

Show more
Editor's Tip
Speakitaly uses the 'Common European Framework of Reference for languages' as guidelines for their online and offline courses. Their method is driven by a didactic method that is the result of constant updates, professional certifications and more than 10 years of experience.